London calling...now open 10:30-5pm most days!

We're back in the states, but I thought I'd summarize our trip to London: mixed.
First off, it took forever to check into the hotel. (Terry forgot that one of the rooms was under *my* name.) Then it took even longer to drop off the rental car and take the tube into the city. It was 4:00 by the time we got to the
British Museum
.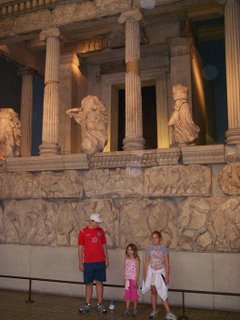 We took the kids around the Egyptian areas, specifically the Rosetta stone and the mummies. Devin wanted to see "the parts of the Parthenon that they
stole
from the Greeks." So we saw those. Still, the museum closed at 5:30, so we barely had any time. Everything in London closed at 5 or 5:30. So we were bored. What do you do at 6pm? You go to Trafalgar Square and hang out with two thousand or so of your "closest" friends! I swear there must've been a million people just hanging out on London streets because there wasn't anything else to do.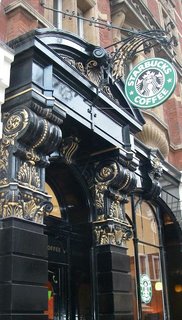 While walking around London, we found about 6-7 Starbucks, including one right across from the British Museum. The problem is that a mocha frap costs 3.10, which is about $5.75 with the crappy exchange rate. Yeow.
Because it was a Sunday (a bad day for anything in the UK), there weren't any shows on at night. So, we went home early.
On Monday (another bad day for London), we went first to see the changing of the guard. We got there early to get a front-row view, and I ended up with a French couple complaining because they couldn't get infront of me to take photos. They had no idea I understood most of what they were saying, and I tell you it took a lot for me to not cuss back in French. Instead, I stood my ground with my kids in front of me and refused to let anyone squeeze in or push us up against the gates. There were thousands of people there. Of course, your kids enjoyment of any event is inversely proportional to the amount of effort you put in getting there, so we left about half-way through the marching around.
We walked around to
Westminster Abbey
and decided to not pay the $40 to get in. So we walked to the Houses of Parliament, but they were closed, of course, because it's Monday.
We took the tube to the
Tower of London
and spent the rest of the afternoon looking at a ridiculously large amount of gold crap. I couldn't help but think of the Inca and Aztecs and the gold they had that was stolen and melted down for Spain. Of course, in addition to the gold, there's the vault of gem-encrusted crowns and other royal jewelry and maces and scepters...oh my! The best part of this was watching Teagan mimic the guards when they marched by.
After the Tower, we decided to grab some dinner and see if we could get tickets to
The Blue Man Group
. We scored some cheap tickets (15 pounds each, or about $28). The kids loved it. Erin says it was the best thing we did, but I think she's saying that because it's fresh in her mind.

Anyway, I wish we had had a few more days in London. Those of you wanting to go, my advice is to decide on what you want to see before you go and make sure things are open. (I did this for the museum but not parliament). Most of the "attractions" are open for such a short time (like 10:30-5, I'm not kidding), so you can't see more than two things in a day, and that's if you're waiting on the doorstep when one place opens, you skip lunch, and you rush to the other place after only 2-3 hours. Oh, but the London Eye(sore) is open late, if you want to spend $30 each for a ferris wheel.
The next day we flew out first thing. The kids did a great job carting their luggage through the tube. They really are great travelers.
The oddest part of the trip was the ending. I expected to have some emotional response. I thought I might be happy to head home, or sad that the trip was over, or something. Instead, I got on the plane without much ado, and simply arrived in my own bed nearly a day later.
If you're interested, I can tell you all about the things I appreciate more now than before I left. (Hint: one is toilets, one is fresh air! ha ha ha)
The best part, though, is that the family bonded and we all got to know each other a bit better. We have stories to tell each other and over 7GB of photos to remind us of the trip.
Thanks to everyone who stuck with me through this blog. I hope you enjoyed it as much as I did!